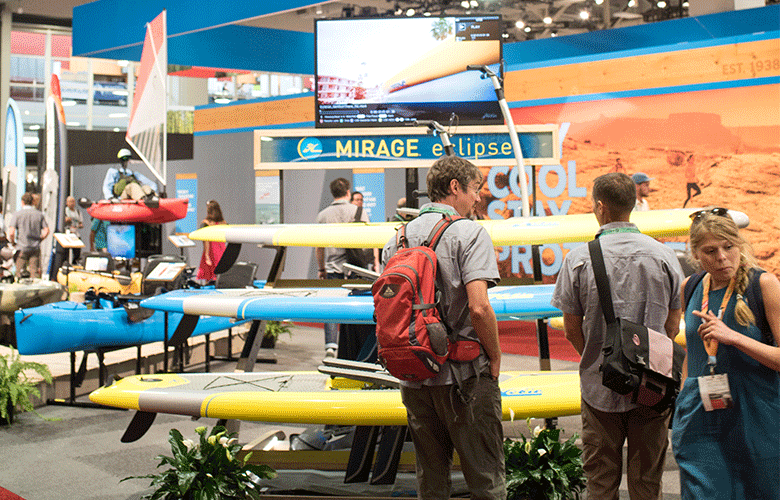 Outdoor Retailer is all about bringing the community together to strengthen the industry and form new relationships. Anchored in specialty retail and flourishing alongside all other market segments at the show, paddlesports is an integral part of the outdoor community and Outdoor Retailer.
Outdoor and Paddle grow together. Together, we get more people on the water, more boats and boards in new stores, more paddles, PFDs and the paddle lifestyle introduced to outdoorists around the country.
Outdoor Retailer provides crossover opportunity. Paddle brands take advantage of a larger buyer mix from retailers in other markets, and conversely, paddlesports retailers have access to hundreds more outdoor brands, both new to the community and to their stores.
Your key paddle brands are here. The brands we know and love are exhibiting at Summer Market this year—including Body Glove, Confluence, Hobie Cat, Pelican International, Thule, Watershed and Yakima…see more paddle brands below and the full list of brands here.
Demo Experience + Paddle = made for each other. Paddle will be front and center at the Demo Experience at Confluence and Commons Parks, where buyers can experience every board, boat and kayak in a new urban adventure, including whitewater access in Confluence Park!
Key paddle brands exhibiting at Summer Market include Accent Paddles/Cannon, AIR BOX, Aqua Lung America, Astral, Bestway, BIC, Boardworks, Body Glove, Bote, Confluence, Down River Equipment, Future Beach, GeckoBrands, Greenland Sales Corporation, Hobie Cat Company, Intex, KL Outdoors, Kokatat Inc., Kokopelli Raft, KwikTek/Airhead, Lifetime Products, MTI Adventurewear, NRS, Onyx/Absolute Outdoors, Pelican International, Red Paddle, Seattle Sports Co, Thule, Watershed, Yakima and Point 65.