Digital & Print
Outdoor Retailer has many opportunities for your brand including digital and print opportunities help get your brand in front of attendees before and during the show.  Check out all the options here:
Attendee Email Newsletter
Direct Mail
Email List Rental
Exhibitor Email Newsletter
Magazine Bin
Mobile app
Online Listing Upgrade
Show Directory
Show Map
Show Planner Digital Upgrades
Web Advertising
Check out these opportunities in more detail in the 2018 Summer Market Sponsorship Brochure: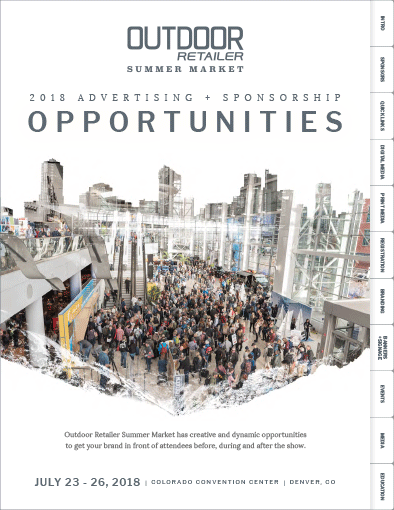 Contact your Account Executive to learn more.
---
The Exhibitor Console
Through the Exhibitor Console, you can manage your online profile, upgrades, logo upload for profile and mobile app, product showcases, show specials, invoice management and much more. Stay tuned for access to the Exhibitor Console for Summer Market 2018.
---
The Daily
The Daily provides show goers with all the information they need while at Outdoor Retailer and is printed each day of the show.
Learn more about the promotional opportunities in The Daily Media Kit: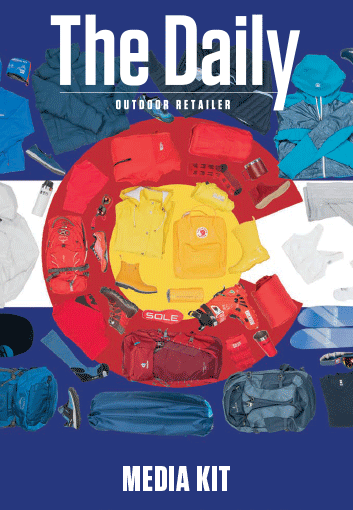 Interested in advertising in both Outdoor Retailer Magazine and The Daily? Click here to read about how you can promote your brand in both.
On-Site
How will you reach attendees at the show beyond your booth?
Badge Advertising
Badge Lanyard Sponsor
Banners
Charging Stations
Column Wrap
Digital Screens
Floor Graphics
Hotel Key Card Branding
Made in America Program
Media Lounge Sponsor
Meterboards
New Product Display Case
Official Show Product Giveaways
Outdoor Displays
Registration Branding
Restroom Sponsor
Retailer + Rep Lounge Sponsor
Sample Stations
Vehicle Placement
VIP Retailer Bag Insert
Window Clings
Contact your Account Executive to learn more.
Events
Events are a great way to connect with attendees in a relaxed, fun environment. Check out the event opportunities at the show!
Education Seminars
Industry Party
Media Preview
Run / Morning Event
Contact your Account Executive to learn more.